ACapella Verse Baffles are designed for isolating noise and absorbing sound in open ceiling environments such as office spaces, restaurants, lobbies and classrooms. The polyester baffles are spaced at least 3" apart and hung individually from existing ceiling grid systems, roof decks or bar joists in open ceiling areas. Verse Baffles come in three designs: Range, Wave and Flat baffle shapes. Custom baffle shapes are also available. Verse Baffles add color with the use of 16 bold and bright color option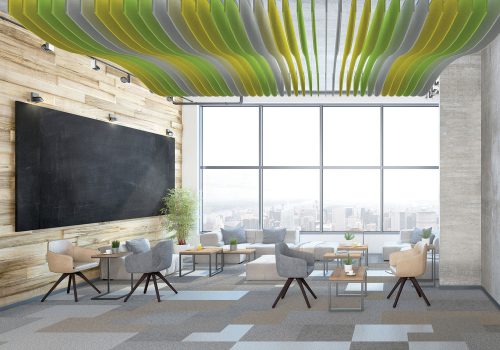 ACapella Chorus Baffles are a polyester ceiling baffle system suspended in a group of panels that provides noise reduction and design elements for open ceilings. Chorus Baffles are grouped from an aluminum tubing structure for easy hanging. Chorus Baffles are supplied in 16 colors and feature three designs, Range, Wave and Flat baffle shapes. Custom baffle shapes are also available. Perfect for use in offices, restaurants or event spaces, Chorus Baffles add design to any ceiling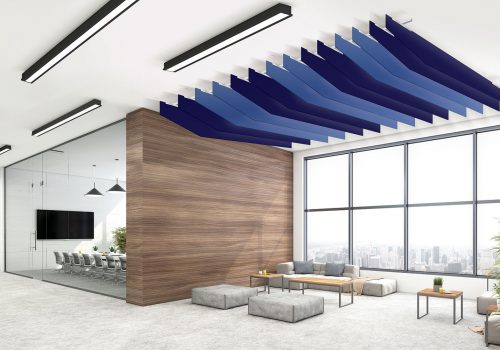 ACapella Floats are flat, custom shaped, sound-absorbing polyester ceiling clouds. Each Float can hang from the ceiling at any angle, depending on the desired design and acoustical effect. Floats are supplied in 16 colors and come in square, circular, triangular, rectangular, polygon and trapezoid shapes. Custom shapes are available. All shapes are available in solid or open panels.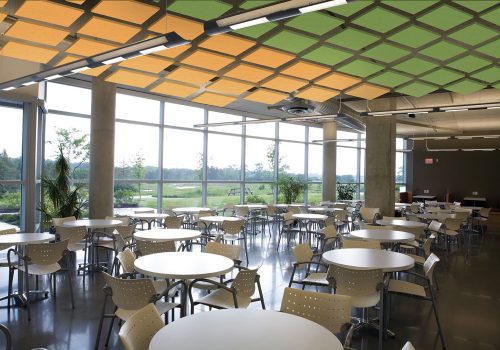 aCapella aTiles are flat, sound-absorbing and colorful polyester ceiling tiles. aTiles can be installed in a variety of ways, including lay-in grids and direct applied with mechanical fasteners or adhesive. aTiles provide sound control while adding color to the design of any space. Custom shapes and sizes are available. Choose from 16 standard colors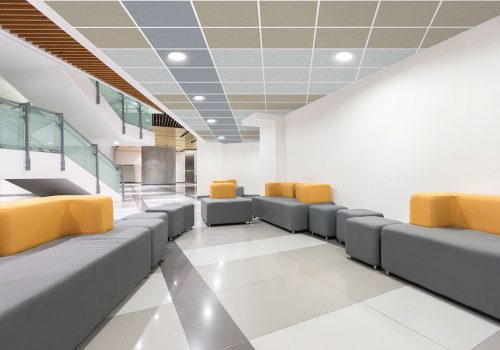 aCapella Scores are sound-absorbing polyester wall panels, which feature full wall applications, shape clusters, decorative cut-outs and individual shapes. Durable and colorful enough for office spaces, Scores creates an acoustically comfortable environment, and are available in standard shapes as well as a wide variety of custom shapes. Scores wall panels are offered in 16 standard colors.